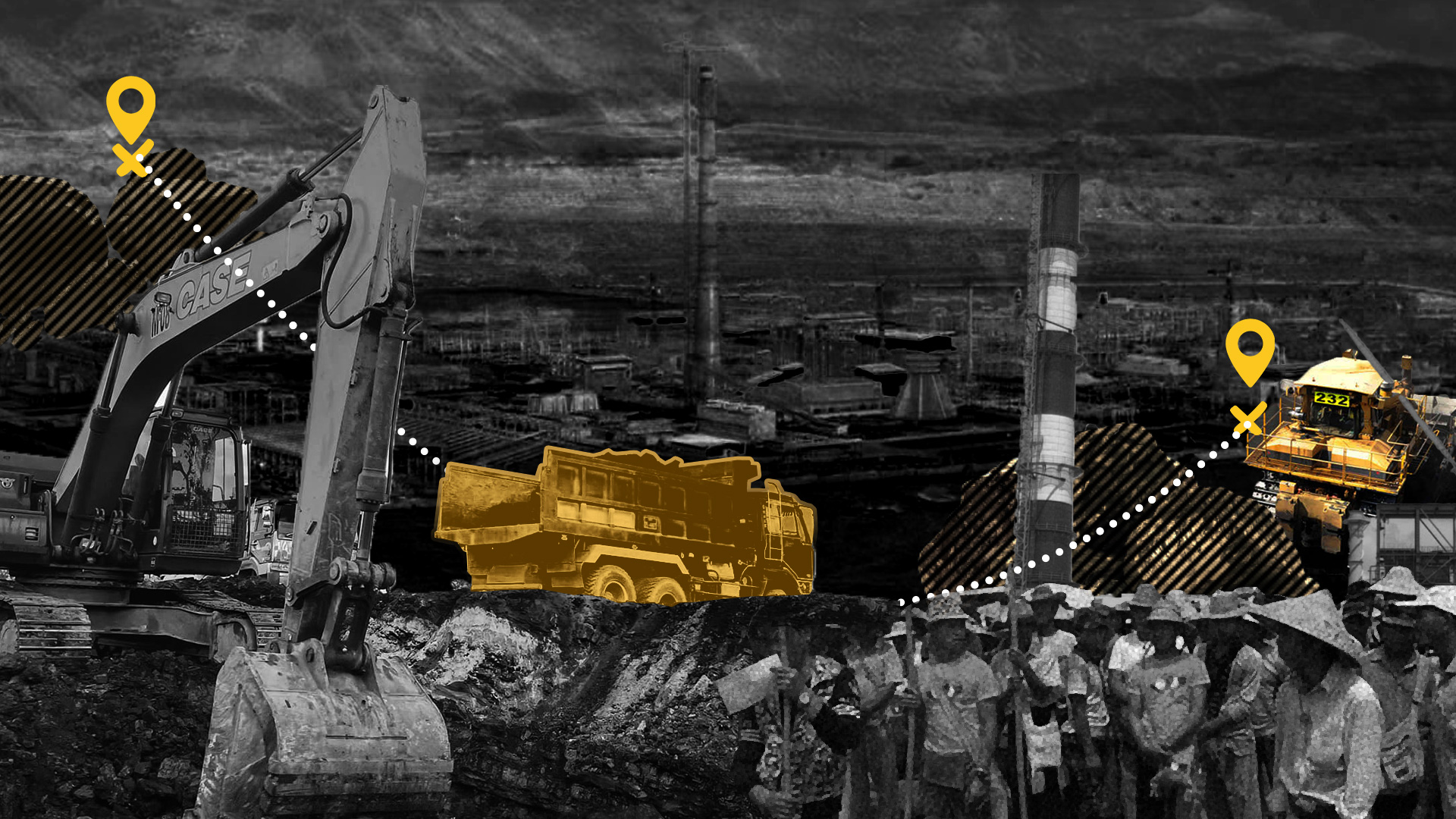 Since mid-October 2022, large-scale coal excavation has begun in Ke See township, central Shan State, to feed blast furnaces in Pinpet near Taunggyi, which will produce iron for the Myingyan steel plant in Mandalay. This production chain will actualize the Burma Army's long-held plans to boost local steel manufacture and strengthen its defence industry.
The iron and steel mills at Pinpet and Myingyan started being constructed under the former SPDC regime, but never became fully operational, and were suspended in 2017 by the NLD government, due to alleged financial losses. Since the February 2021 coup, the SAC regime has restarted the projects, with the help of Russian and Italian companies. 
The Pinpet iron factory, a joint venture with Russia's state-owned Tyazhpromexport company, is designed to use Russian "romelt" technology, whereby low-grade iron ore can be smelted in a single step. This process requires a particular grade of coal only available in the Ke See area.
Local communities have long opposed the coal mining plans in Ke See, which will not only destroy large areas of farmlands, but block and pollute the Nam Hen stream, relied on by over 18,000 villagers for farming and household use.
The coal has started being transported by truck from Ke See across central Shan State to Pinpet via Laikha, Loilem and Hopong. It is planned to transport 1,500 tons of coal along this route each day.
The three companies mining coal in Ke See — Ngwe Yi Pale, Min Shwe Hlwar and Nampan Development and Investment have close links to the Burma Army and their militia. Ngwe Yi Pale and Min Shwe Hlwar are already notorious for operating polluting coal mines in other parts of Shan State.
The coal trucks are passing unhindered through areas of central Shan State controlled by ethnic ceasefire groups, indicating agreement to allow passage – and raising questions as to why they are helping the regime fuel its weapons industry.
Our network of community activists urges consumers to boycott the products and services of the companies mining in Ke See until they stop their operations. We also urge Russia's
Tyazhpromexport
and Italy's
Danieli
to stop collaborating with the SAC regime and immediately pull out of Burma.
Reactivation of the Pinpet iron factory
The Pinpet iron factory is located next to Burma's second largest iron deposit in Pinpet mountain, about 10 kilometers southeast of Taunggyi. It was developed as a joint project between the Russian state-owned Tyazhpromexport and the military's Myanmar Economic Corporation, under an agreement signed in 2004. Actual construction began in 2006. 
In 2009, the Pa-O Youth Organisation (PYO) published a report exposing the damaging impacts of the ongoing construction of the iron plant and the nearby Kanbawza cement factory, including confiscation of 11,000 acres of land, with little or no compensation, and forced relocation of 50 people. The PYO warned that once large-scale mining and iron processing began, the health and farming livelihoods of 7,000 people living around the base of the mountain, and a further 35,000 living along the Thabet Stream in the Hopong valley east of the factory, would be directly threatened by environmental destruction and pollution. 
In 2015, the first stage of the Pinpet factory was completed, but in March 2017, citing financial losses, the NLD government suspended work at Pinpet as well as at the Myingyan steel factory, to which the pig iron produced at Pinpet would be sent. 
Since the February 2021 coup, the SAC regime has reactivated both the Pinpet and Myingyan projects, in collaboration with Russia's Tyazhpromexport and the Italian company Danieli, which was involved in building the Myingyan steel plant.
On October 1, 2021, SAC chairman Min Aung Hlaing visited the Pinpet plant, now called the No. 2 Steel Mill (Pinpet), under the Ministry of Industry. State media reported that the project was 98.86% complete, but a railway link and stable power supply were still being developed, to enable project resumption in the 2023-2024 financial year. 
In April 2022, upgrading and repair began on an existing branch pipeline from the Shwe gas pipeline in Magwe, linking to Pinpet. In September 2022, state media reported that upgrade work on the 185-mile Magwe-Pyawbwe-Pyinyaung-Pinpet pipeline was 77.5% completed. 
In June 2022, construction began on a new six-mile railway line from the existing Nyaungshwe-Namzarng railway to Pinpet, linking the iron factory to the railway grid and enabling the pig iron produced at Pinpet to be sent directly to the Myingyan steel mill. 
287 acres of land have been confiscated for the new railway line. Farmers were forced to accept compensation of 5 million kyat per acre, and three years' sales value of the crops grown on the land.
The Pinpet factory will also use electricity from the Kengtawng hydropower plant, and from the Upper Kengtawng dam project, once it is completed. 
Pinpet factory re-opening threatens livelihoods of thousands of deepwater rice farmers in Toong Pong
South of Pinpet, the Thabet Stream (called Tamhpak Stream in Shan) has a unique annual flooding pattern. During the rainy season, it floods its banks, forming a 8-km wide lake stretching for over 15 kms. Over 10,000 people live in about 30 villages in this flood plain, called "Toong Pong" in Shan, relying on farming of deepwater rice, as well as fisheries. 
During the past ten years, due to construction and operation of the Pinpet factory and nearby Shan Yoma cement factory and Ngwe Kabar Kyaw  antimony factory, as well as expanded antimony mining by the Ruby Dragon Mining Company, Toong Pong villagers have suffered from deteriorating water quality in the Thabet Stream. The water has become turbid, causing skin irritation, fish stocks have declined, and deepwater rice yields have decreased. 
Once the Pinpet factory restarts at full capacity, the amount of waste water released into the Thabet Stream will significantly increase, and Toong Pong villagers fear much greater damage to the stream's ecology, threatening their health and livelihoods.  
Burma Army seizure of land for coal mining in Ke See
The Shan Human Rights Foundation has documented that preparation for coal mining in Ke See began under the SPDC regime. 
In 2009, Ke See-based Burma Army LIB 131 was granted a coal mining permit for 5,459 acres of land in Mong Gao tract, eight kms south of Ke See town. Local farmers were forced to accept 24,000 kyat per acre as compensation for their land.
In 2015, the military's Union of Myanmar Economic Holdings Limited (UMEHL) sold coal mining licences in Mong Gao to five companies, for 100 million kyat each, with UMEHL to receive 17% of profits once the mines were operating. The same year, two new Burma Army outposts were set up in Mong Gao.
In 2018, Ke See township authorities informed Mong Gao residents that the 5,459 acres were being transferred to the Pinpet iron factory under the Ministry of Industry. The villagers wrote letters to the township and state authorities opposing this. 
In mid-October 2022, coal mining began in the Mong Gao area. It is being carried out by three companies: Ngwe Yi Pale, Min Shwe Hlwar and Nam Pan Development and Investment Company. On October 27, 2022, the first convoy of fifteen 22-wheel trucks began transporting coal from Mong Gao to Pinpet via Mong Nawng. 
Preparation is also underway by Ngwe Yi Pale and Nam Pan companies to start coal mining in Wan Warp tract, 20 kms northeast of Ke See town. This coal will also be transported to Pinpet. Farmers have been forced by the SAC authorities to accept 500,000 kyat per acre of land. 
Ke See coal mining threatens ecology of Salween tributaries: Nam Hen and Pang River
Local villagers are strongly opposed to the coal mining, which will not only destroy large areas of farmland, pasture and community forest, but also block and pollute the Nam Hen stream, which irrigates farmlands of over 50 villages in Ke See township. The Nam Hen flows into the Pang river, the largest Salween tributary.
Already, mining waste from the Mong Gao coalfield is being dumped in the Nawng Kha lake area, where cattle graze and which irrigates local fields. Villagers had begged the companies not to dump waste there, but their appeals were ignored.
Contested control over coal transport route
The SAC regime has military bases in the towns along the 200 km coal transport route between the Ke See coal mines and Pinpet iron factory, but the rural areas are controlled by their militia allies or by ethnic ceasefire groups. 
The groups operating along the route are:
Pa-O National Organisation (PNO)
 – a former ceasefire organization
Manpang militia
– founded by former Mong Tai Army officer Bo Mon
Shan State South (SSS) militia
– founded by former Mong Tai Army officer Maha Ja
Shan State Progress Party/Shan State Army (SSPP/SSA)
– first ceasefire in 1989; new ceasefire in 2012
Restoration Council of Shan State/Shan State Army (RCSS/SSA)
– ceasefire in 2012
United Wa State Army (UWSA)
– ceasefire in 1989