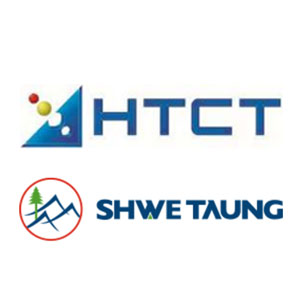 building materials, distribution, engineering and construction, infrastructure investments, lifestyle, and real estate
Head Office (of HTCT and Shwe Taung)
Strand Road, Ahlone Tower, River View Garden Housing,
Sin Min Quarter, Ahlone Township, Yangon Region
High Tech Construction Trust Co. Ltd. (HTCT) is a subsidiary of Shwe Taung Group, one of the largest business conglomerates in Burma, which describes its core portfolio as "building materials, distribution, engineering and construction, infrastructure investments, lifestyle, and real estate". Shwe Taung was set up in the 1990s by Aik Htun, one of Burma's wealthiest tycoons, who benefitted from his close ties to the SPDC military regime.
Shwe Taung was involved in construction of the Yeywa dam on the Namtu (Myitnge) River, and the Baluchaung 3 Hydropower Project in Karenni State.
HTCT formed a consortium with Andritz Hydro and Kansai Electric Power Co. to build the 56 MW Deedoke dam on the Namtu (Myitnge) River, and received a Notice To Proceed from Burma's Ministry of Electricity and Energy on August 17, 2018. After the February 2021 coup, the consortium suspended the project "due to ongoing challenges".